Things are settling in slowly but surely. The kitchen is gradually getting unpacked and put into new places and all the beds are ready and awaiting tired bodies at the end of the day. On Sunday we went to church around the corner from our house and it is small but very friendly.
"Can we bring you meals?"
"Can we organize an unpacking crew?"
"I have a 10 year old, we can play!"
...and the best was when we were leaving and Katy, age 5, ran to Maleiah and they hugged each other to say goodbye. I laughed because now Maleiah has a little friend of her very own. It melted me.
On Monday we visited the library! We all got cards and with each card we can check out 75 books. Do the math. That's a lot of books people. I am a happy girl. :) Caeden left with an arm load (only because we didn't bring a bag to fill) and I left with some cookbooks that I am already excited to put to the test.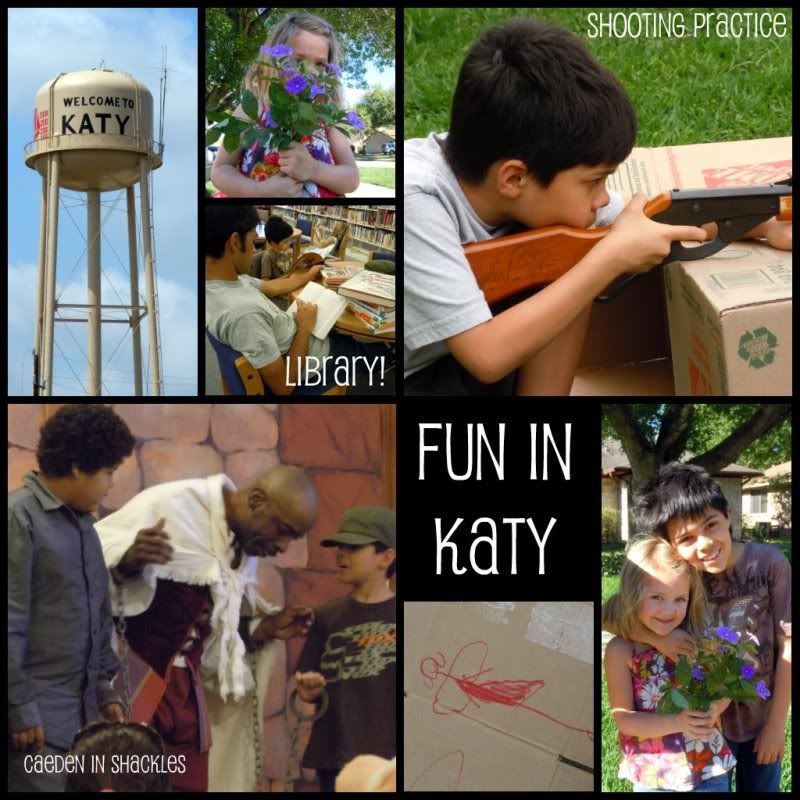 Yesterday we played in the front yard for the first time ever! We have always lived on a busy street or on a corner and I never felt like it was safe for the kids to ride bikes, play or whatever fun you can have in the front yard of your house that can't be had in the back. It was so nice. I read a magazine and took pictures. The kids raced, found bugs, made bouquets and Maleiah danced a fantastic recital right in the driveway.
Today we went to Houston for an
Interactive Theater
production of Robin Hood for children. The kids loved it and we survived the freeway drive! Caeden even got to be shackled and rescued by "Little John" during the show, he really enjoyed that. We are looking forward to attending more of their productions next year!
Good news: on the drive home we saw a sign, a very important one...
So excited to have one close, although I love that there are other options for fabric and crafty stuff that I will be exploring soon!